16th November 2016
Introduction
If staff are paid hourly, of if they work flexible hours, the time they spend at work each day will will need to be recorded to ensure they are paid correctly. This can be done by asking them to clock in and clock out each day (using a time recording system like People Inc. time), or perhaps by asking them to keep timesheets (see the individual timesheets feature here).
In organisations where responsibility for staff time-keeping is delegated to line managers (because perhaps teams are geographically spread out, or they simply work independently) quite often, the manager will prepare and submit a departmental timesheet.
A paper-based approach can have a number of drawbacks. Mistakes can be made easily, and collating the information may be slow. Details often then need to be re-typed into the organisations payroll system before salaries can be paid.
Departmental Timesheets
Managing time-sheets electronically ensures that accurate and complete details are recorded, that timesheets are submitted quickly and efficiently, that they are processed easily (with an accessible audit trail), and that they are then paid and filed.
The Departmental Timesheets feature enables managers to record time-sheets electronically via their web browser. On submission, timesheets are routed to payroll. At any stage the process can be monitored or tracked. The hours worked can then be extracted (in MS Excel format for example) for payroll processing. Finally, management reports can be generated from the information recorded within the system.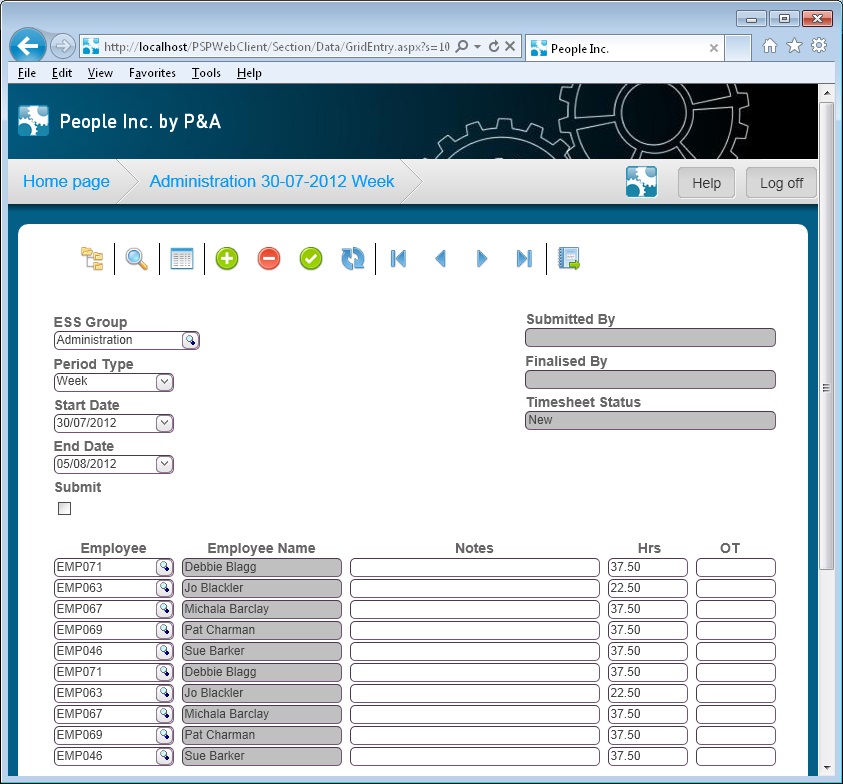 More Information
For more information about the Departmental Timesheet feature join one of our webinars (see below), click on the 'Learn More' button at the bottom of this page, or call the People Inc. team on 01908 265111.
Webinars
If you would like to learn more about the Departmental Timesheet feature, please join one of our free webinars:
Wednesday 23rd November 2016 at 11am
Wednesday 23rd November 2016 at 2pm
Thursday 24th November 2016 at 11am
Thursday 24th November 2016 at 2pm
Click on the button below to book a place on a Webinar, or call People Inc. on 01908 265111.

Learn More
More information about Departmental Timesheets
Learn More

Webinar
Click here to join a webinar.
Webinar