15th January 2021
Introduction
A People Inc. feature designed to help monitor and manage system data is now available. This tool can be used to check that the system has been kept up to date and identify possible omissions. The Data Check feature provides users with an overview of the information held within their system and highlights any areas that should be reviewed or updated.
System Data Check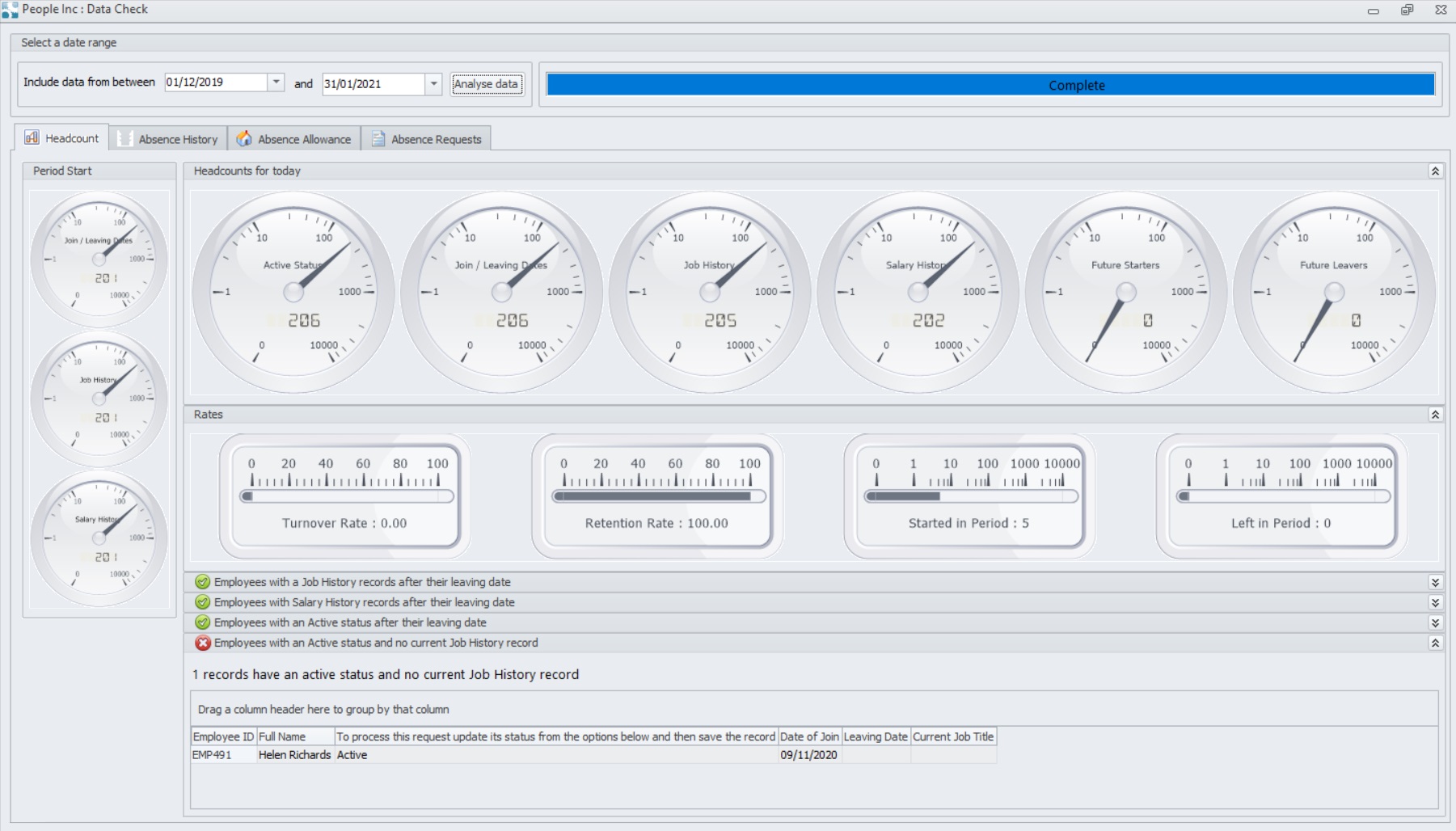 There are a number of checks and balances that can be done on a regular basis to ensure the wellbeing of your People Inc. system. With the capacity to manage extensive HR records, and often for hundreds of employees, over time it is likely that some information within the system is overlooked and left incomplete.
Running reports can help when looking for missing entries (and quite a number of reports designed for exactly this purpose are included with the system). But this can still take a considerable amount of time.
In addition to this, our help desk team are on hand to help you with any queries you have relating to the information within your system. A system health check generates comprehensive information relating to the records within your HR system, highlights any issues, and ensures that you are set up and ready for the year ahead.
More Information
Click on the blue 'Learn More' button to view more information about the People Inc. system health-check tool. Alternatively join one of our competency management webinars (see below). If you would like to discuss system management in more detail, please call the People Inc. team on 01908 265111.

More Information
System Health-Check
Learn More
Webinars
If you would like to learn more about the People Inc. health-check tool, please join one of our free webinars:
Wednesday 20th January 2021 at 11am
Wednesday 20th January 2021 at 2pm
Thursday 21st January 2021 at 11am
Thursday 21st January 2021 at 2pm
Use the blue 'Webinar' button to book a place.

Webinar
Click here to join a webinar.
Webinar
Discover more about these topics

Related Features
We have a variety of system tools, expertise and related services designed to help you get the most from your People Inc. system. Some more information is provided below: