Self Service Product Update
23rd June 2021
Introduction
Focussing mainly on Employee Self-Service features, the June 2021 update for People Inc. includes new functionality added to the Training Registration feature, the Employee Directory, the Absence Request Wizard, the ESS Scheduler, the Statistics tool, the Training Matrix, and the Salary Review Manager feature. This upgrade to the People Inc. HR system is available free-of-charge to organisations that use the ESS module.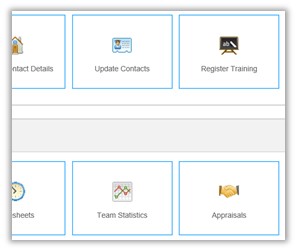 Training Registration
The Training Registration feature is an inclusive, fast and efficient way to keep your organisation's training records up to date. Encourage staff to add their own training records (or ask managers to enter training details for their team) via their ESS log-in, while retaining control over the information they submit. This feature helps to ensure you record comprehensive employee training details, and that the organisation complies with employment legislation.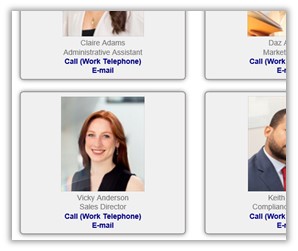 Employee Directory
An efficient way to ensure that contact details are readily available to all staff, at all times. Having an up to date, centralised, employee directory showing a list of employee details (customised to suit the needs of the organisation) ensures that staff can always find contact details for their colleagues. And when staff are not at work, or unavailable for some reason, this information is also shown in the directory.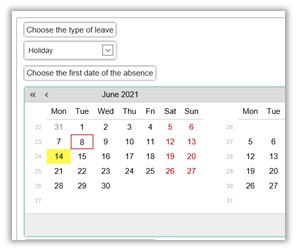 Holiday Requests
A streamlined, intuitive absence request system with a significantly improved user interface that assists and guides staff and managers through the absence management process. Far quicker and far more effective than a paper-based (or e-mail based) approach. At any time of day, employees can see how much leave they have left to take and can view their bookings (and bookings for their colleagues) in a shared calendar. Detailed records are retained automatically (including an audit trail of updates).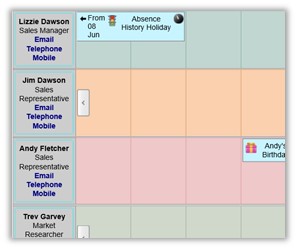 Scheduler
Never miss a key date or a deadline. The Scheduler tool improves communication and efficiency within the organisation and ensues that HR processes and records are completed or updated expediently. Based on centralised HR information, the Scheduler provides line managers with access to key dates for their team and provides HR with the means to delegate responsibility for tasks and actions.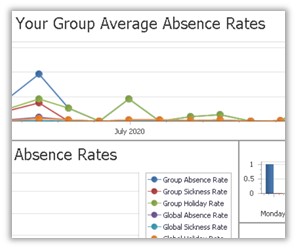 Statistics
The ESS Statistics tool is designed to enhance planning and productivity by showing a graphical representation of the availability of resource, and key absence data points. It highlights trends, provides a comparison of team data with benchmark results from the entire organisation, and raises the profile of racial and gender equality within the organisation.
Training Matrix
Providing the right training is key to having an effective and safe workplace; it also helps to motivate the workforce. The Training Matrix can be used to demonstrate compliance with legislation (including Health & Safety at work). It ensures that employees receive the training they need, and highlights issues, for example when training is about to expire.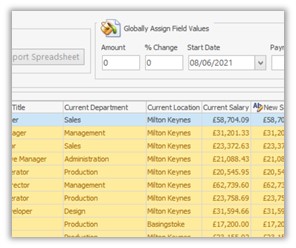 Salary Review Manager
Manage the organisation's annual pay review quickly and efficiently with this fully-integrated system tool. One of a range of People Inc. plug-ins and wizards that are designed to improve productivity and save time across a number of different areas of HR.
More Information
Click on the blue 'Learn More' button to view more information about how this People Inc. upgrade can help your organisation. Alternatively join one of our webinars (see below). Please call the People Inc. team on 01908 265111 if you would like to discuss the upgrade with us.

Learn More
System Upgrade
Learn More
Webinars
If you would like to learn more about this People Inc. upgrade, please join one of our free webinars:
Tuesday 22nd July at 11am
Tuesday 22nd July at 2pm
Wednesday 23rd July at 11am
Wednesday 23rd July at 2pm
Use the blue 'Webinar' button to book a place.

Webinar
Click here to join a webinar.
Webinar
Upgrading your People Inc. system.
These features are available as a People Inc. system upgrade. Please call our help desk to discuss adding this functionality your copy of People Inc.
Discover more about these topics

Related Features
Regular updates and upgrades are provided for the People Inc. system. Information on some of these are provided below:
External Resources
The following links provide additional information about Competency Management. The links are to pages on websites over which we have no control. This information is provided for reference only.