Launched in 1999 as un upgrade for the hugely successful Vizual Personnel HR system, Personnel Manager delivered comprehensive functionality designed to enable small to medium-sized organisations to manage their HR records. At this time, Vizual differentiated themselves by selling software for perhaps one-tenth the price of other HR management systems. Their no-nonsense approach to personnel software was extended to a range of around 20 software titles and this enabled them to build a large population of loyal users.
Adding an Employee Self-Service module and the option of using Microsoft SQL Server to host the product's databases, the Personnel Director system was aimed squarely at larger organisations. But in a somewhat confusing turn of events, the Personnel Director system was priced in a similar way to many of the other systems available at the time. Clients could now choose a scalable product with a robust database engine, but they could also choose similar products at similar prices from a long list of other suppliers.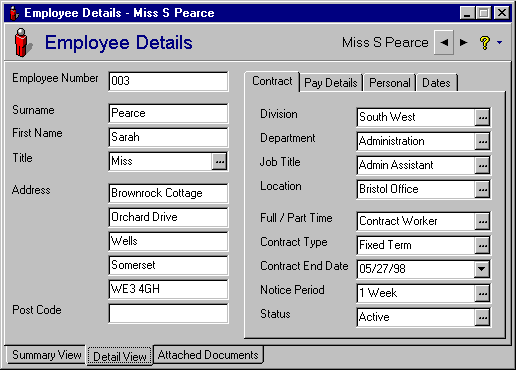 Following the launch of Personnel Director, Vizual embarked on the development of the HR.net family of products. Made up of three versions (Express, Professional and Enterprise) the HR.net systems replaced Personnel Manager and Personnel Director, and enabled Vizual to sell to larger organisations with the flagship Enterprise system. But investment in new software and the move to a more mainstream market put significant commercial pressure on the company and during 2009 it was decided to sell the business to the American payroll supplier ADP. Vizual no longer existed as an independent UK business.
P&A Software and Vizual
P&A Software supplied Vizual Personnel Manager and Vizual Personnel Director to around 4000 clients between 1999 and 2007. During this time, we considered these products to be our principal software offering, and we became Vizual's principal business partner in Europe. Where these products were concerned, our expertise, knowledge and experience was second only to Vizual's.
We developed software that was branded as Vizual products and sold as part of the Vizual stable of software titles. This included the Recruitment Assistant system, Recruitment Director system, and the Training Administrator system.
As Vizual moved away from the SME market, we needed to find a way to continue to work with our existing clients. We felt that HR.net did now work for our clients or our business (either functionally or from thepoint of view of cost). We therefore introduced the People Inc. system to replace Personnel Manager and Personnel Director. Most of our Vizual clients upgraded to our People Inc. HR system soon after Personnel Manager and Personnel Director were withdrawn from sale in 2009. We continue to provide advice and support for customers who still use Personnel Manager, including user training and other consultancy.
Upgrading to People Inc.
We offer a simple upgrade from the Vizual software to our current HR system. Please click on the button below to more information on upgrading from Personnel Manager or Personnel Director to People Inc.
Vizual Upgrade